And now I'm on the News
This story began with seeing a need to teach Global Digital Citizenship, following Vicky Davis, Cool Cat Teacher and then reading about Flat Connections.
Wanting to explore further the ideas of the 'flattening the classroom' I completed the Flat Classroom course on Atomic Learning and contacted Vicky who advised me to become involved in Flat Connections.
Before doing the Flat Connections Educator course I wanted  to prepare for flattening my  class by doing the following steps:
Level 1: Intraconnection within my own class (introduced shared Google docs)
Level 2: Interconnection (within the School). (See blogpost)
Level 3: Managed Global Connection (see Blogpost and Here)
To facilitate this collaborative project with New Zealand I created a lesson on Skype in the Classroom and this, serendipitously, sent a Tweet (I was unaware of this) that was seen by Eru Rerekura from Radio NZ National who then contacted my school about interviewing me.
So, this is my serendipitous event. It all started with a desire to connect. For my students to learn by communicating, sharing and researching globally in an authentic collaborative research project.
Below is the podcast of the news report. I am speaking for about one minute, towards the end. How amazing is New Zealand to have positive news reports about education on the local news. Surprisingly, my collaborating teacher in NZ, Jan Newbold, heard it in her car while driving to work.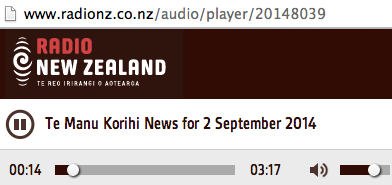 Radio New Zealand News Report
Gone viral
Te Maori News: Friday september 6th
More possible contacts on Maori Culture